<-- Main ... Part 1, Bars 1-10 ... Part 2 -->
Part 1 - Ottumwa, IA to Kirksville, MO
Saturday, June 16, 2007
We left the motel around 11am and started driving around Ottumwa looking for food. We ended up eating at an Arby's and I snapped a few pictures of the town in daylight...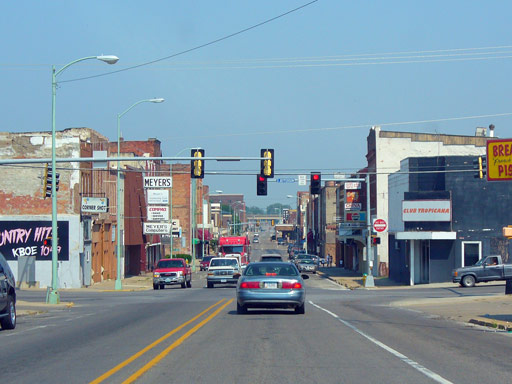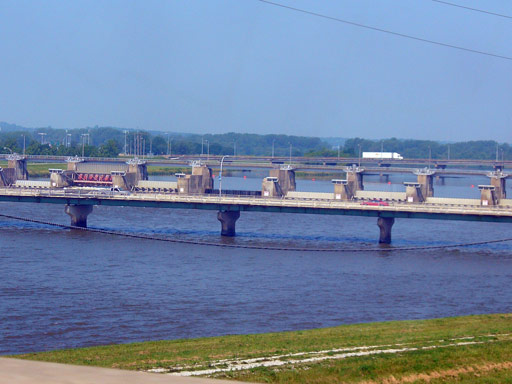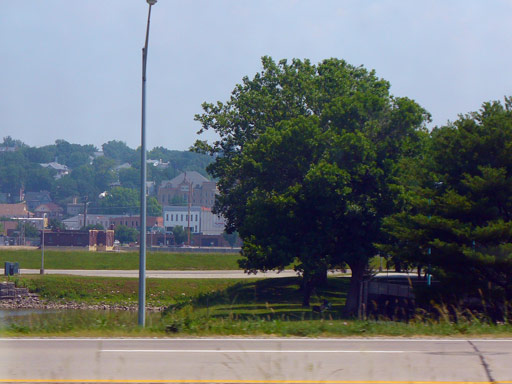 After lunch we continued south, we just a couple more Iowa stops to make beefore re-entering Missouri. With 30 bars under our belts (literally) from the day before, the first few beers would prove a little hard to swallow.
---
Bloomfield, IA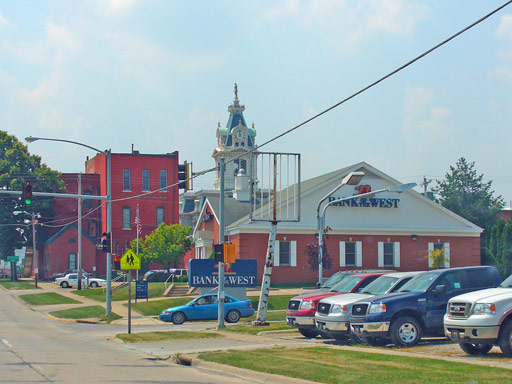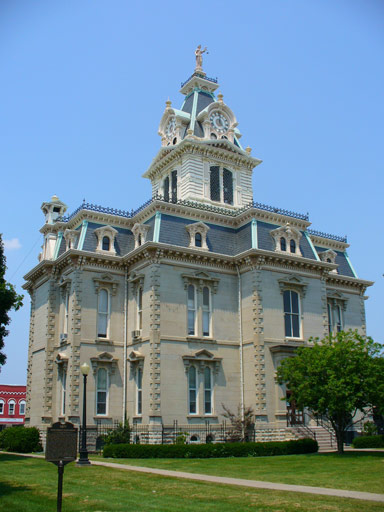 12:00 noon
#1 American Legion #78 [map]
B: Coors Light 10oz draw - $1
S: Coors Light 10oz draw - $1
We had trouble figuring out how to get into this place, the front door seemed to be locked. (We later discovered it was just sticky.) We went in through the back.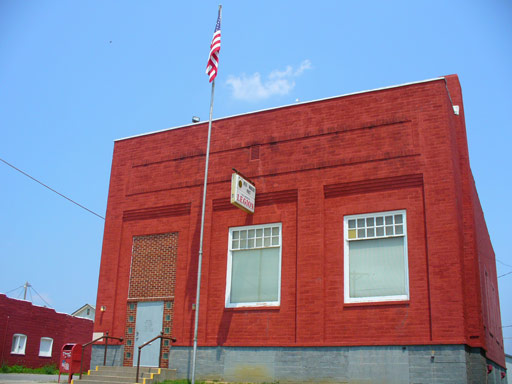 We asked our bartender about the other bars in the area. She named a couple of places on the way out of town that she thought we'd like. More upscale. "Younger people, people more like you, you'll like it."

"There's also Jim's Silver Dollar around the corner, but you don't want to go. That place is a complete dump. Dirty, disgusting. Really nasty. Nasty people, too. [leaning in] True white trash. [leaning more and motioning towards the guys at the far end of the bar] Even worse than what you get in here. And it's expensive, you'll pay a buck-fifty, maybe even a buck seventy-five."

Now, with an endorsement like that, where else would we go next??? :)




12:20pm
#2 Jim's Silver Dollar [map]
B: Old Milwaukeee 10oz draw - $1
S: Old Milwaukeee 10oz draw - $1
This place wasn't bad at all... exactly the type of dive we like. The antique bar was incredible, the ceiling ornate, and behind us a rustic old-timey piano sat side-by-side wwith a TouchTunes jukebox. The men's room was a bit odd... basically a closet with a toilet -- no sink and no working light.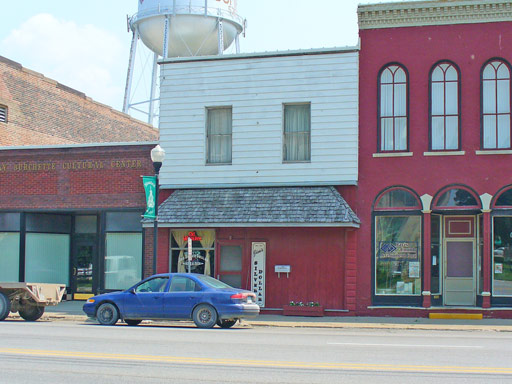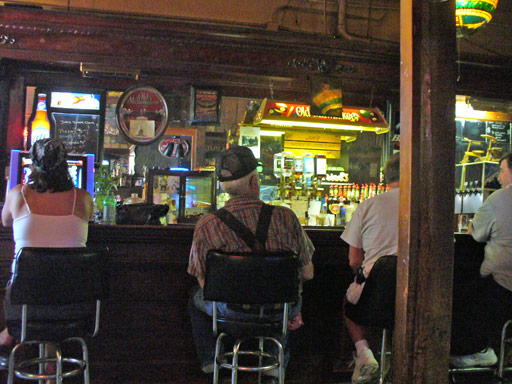 This was the end of the Iowa portion of our trip. Next up, Northeastern Missouri.
---
Lancaster, MO
This town seemed at first too small to have anything, but we soon discovered it even had a minature town square.
1:00pm
#3 Boondocks [map]
B: Bud Lite 7oz bottle - $1.25
S: Bud Lite 7oz bottle - $1.25
We asked for the smallest beer they had, and got thee smallest beer of the entire trip. I'd never seen such small bottles before.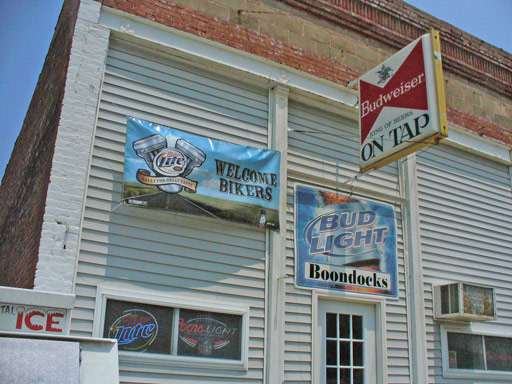 ---
Queen City, MO
Until we got here we weren't 100% sure we were going to find a bar. Even Google said this was going to be a drive-up fast food burger joint.
1:20pm
#4 Checkers [map]
B: Bud bottle - $2
S: Miller Light bottle - $2
We sat at the square-shaped bar and talkedd across the bar to an old man with a tracheotomy as he smoked a cigarette. He and the bartender -- a young woman -- told us about how this place is usually pretty busy once the farmers come in from the fields. As we left, B bought trache-man another beer.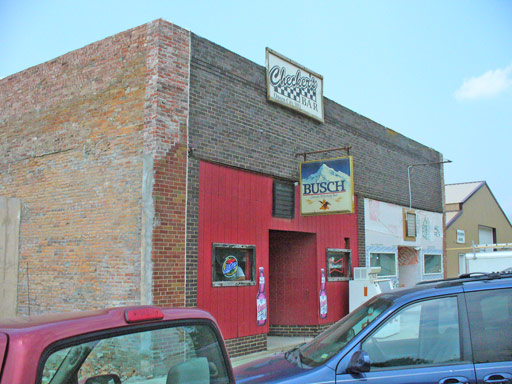 ---
Kirksville, MO
Except for one place that was out-of-business, every bar we planned to visit here was open. Staring at the north end of town with...
2:10pm
#5 Full Moon Bar [map]
B: Bud Lite 10oz draw - $2
S: Bud Lite 10oz draw - $2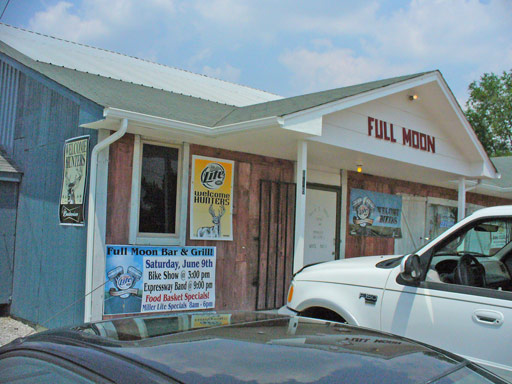 We then headed down to the town square, parked, and set out on foot. On the way we spotted a restaurant that we did not have time to eat at but must surely be one of the best restaurants in the entire world...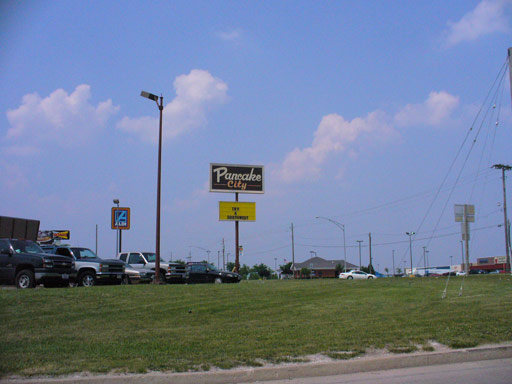 2:40pm
#6 Locker Room Sports Bar [map]
B: Bud Lite 10oz draw - $1.50
S: Bud Lite 10oz draw - $1.50
We watched a couple rounds of UFC with several other guys before heading next door.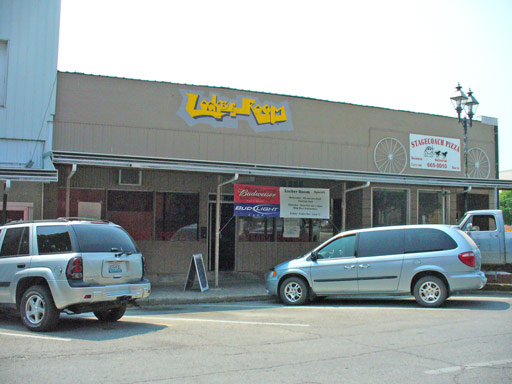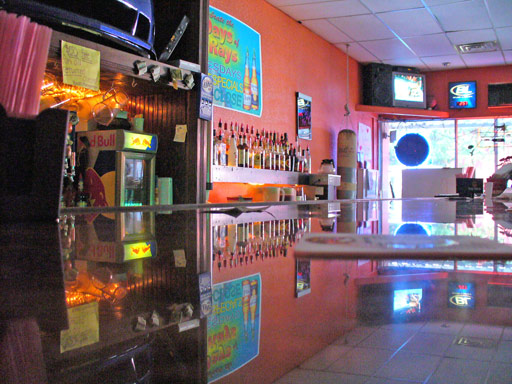 3:00pm
#7 TP's Office [map]
B: Bud 10oz draw - $1.25
S: Bud 10oz draw - $1.25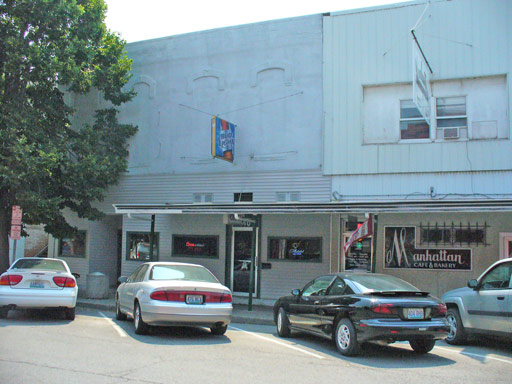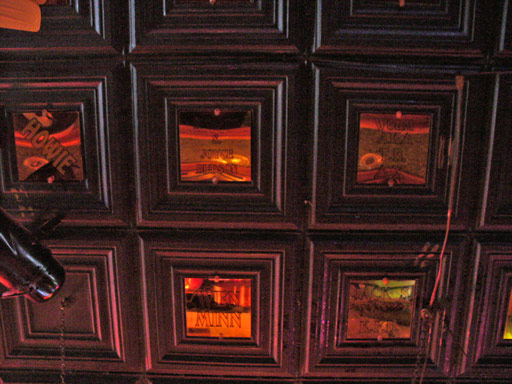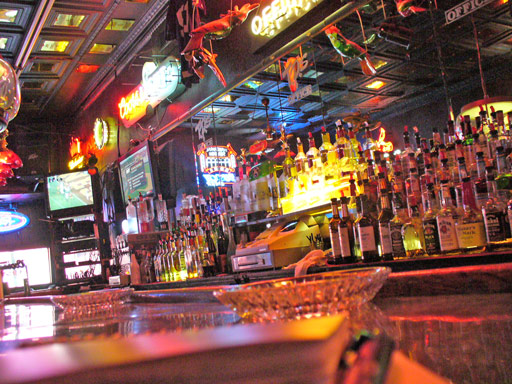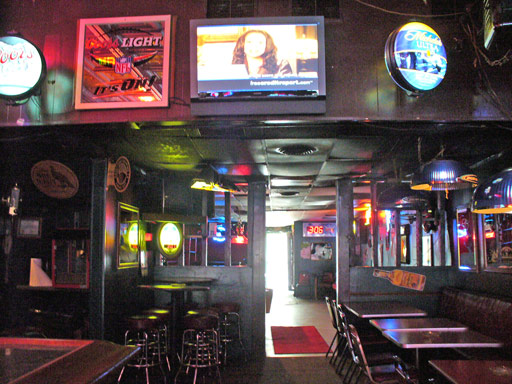 From here we headed to the other side of the square...




3:19pm
#8 Ryan's Sports Bar [map]
B: Bud Lite 10oz draw - $1.75
S: Bud Lite 10oz draw - $1.75
Talking to the bartender here we learned we had missed two bars back where we had just come from.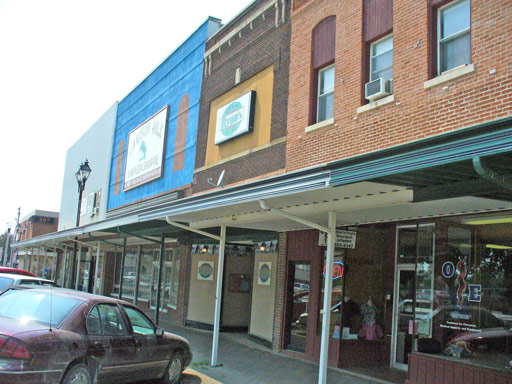 After finishing here we headed around the corner to a place called Too Tall's Too: The Inferno, but it didn't open until 4:00. No matter, we decided we'd come back after first finding the two bars we missed.




3:40pm
#9 Woody's (at The Wooden Nickel) [map]
B: Bud Lite 14oz draw - $1
S: Mule Kick 14oz draw - $1.75
They were just opening up and the bartender was doing side work so te owner poured our beers. "I'm just the owner, I don't know what these things cost," he said wwhile hooking us up with a sweet deal.

The owner restored a 1913 round barn that today ise used for stage play as well as a blues festival. See roundbarnblues.com for details.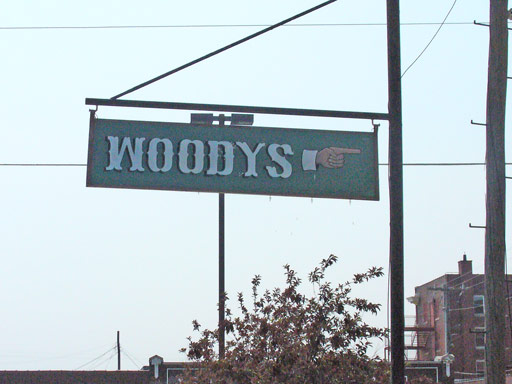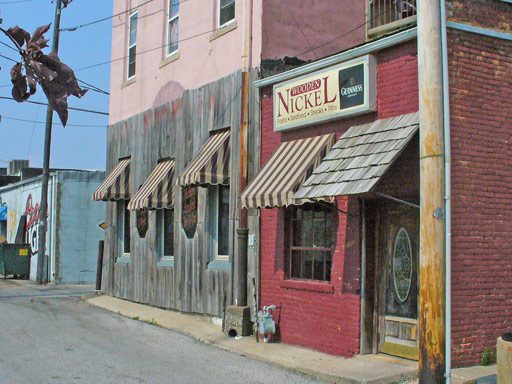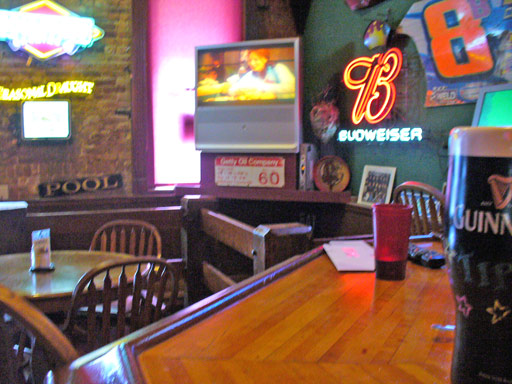 On the way out we spotted a bonus bar across the parking lot but it was closed. On the way back we encountered a crime scene...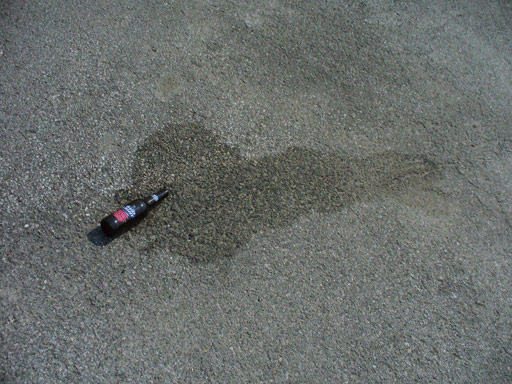 4:10pm
#10 DuKum Inn [map]
B: Coors Light 8oz draw - $2
S: Coors Light 8oz draw - $2
With school out of session, this was the busiest of all the places we visited in Kirksville. They had a great selection of beer on tap but the half-draws we wanted were only available for the domestics.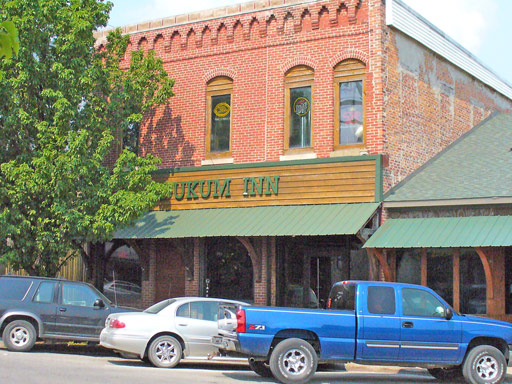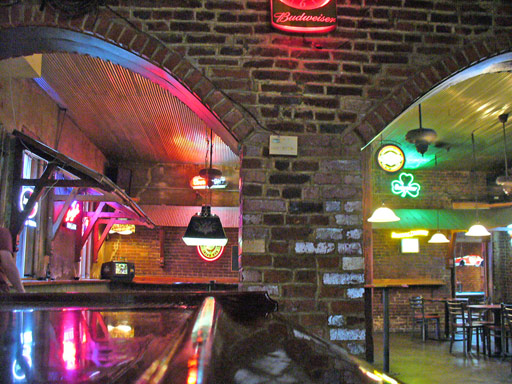 Continued... click part 2 below...



<-- Main ... Part 1, Bars 1-10 ... Part 2 -->



Comments? Leave them here.

Check out my new bar blog: Scooter's Bars