<-- Part 1 ... Part 2, Bars 11-21 ... Main -->
Part 2 - Kirksville, MO to Macon, MO
Saturday, June 16, 2007
---
Kirksville, MO (continued)
4:30pm
#11 Too Tall's Too: The Inferno [map]
B: Bud Lite 10oz draw - $1.50
S: Fat Tire 10oz draw - $2.50
This place was originally Too Tall's, then it caught fire. It was fixed up and reopened as Too Tall's Two. Then it's owner, the mayor, burned it down for insurance money. A new owner bought it, fixed it back up again, and reopened it as Too Tall's Too: The Inferno. The fiery history is celbrated within including animated flames of light projected on one of the walls. This place seems prone to fire, even the new owner nearly did it again with an accidental trash can fire in the office one night -- spotted only because a patron outside at closing time asked about the new smoke machine. :)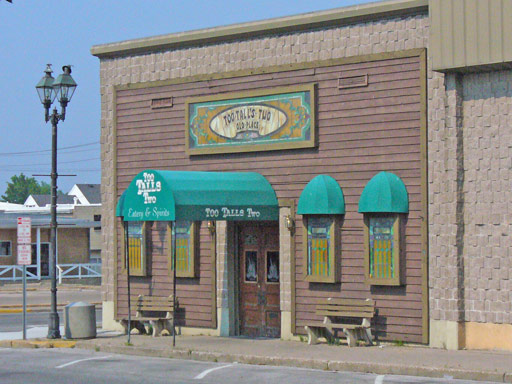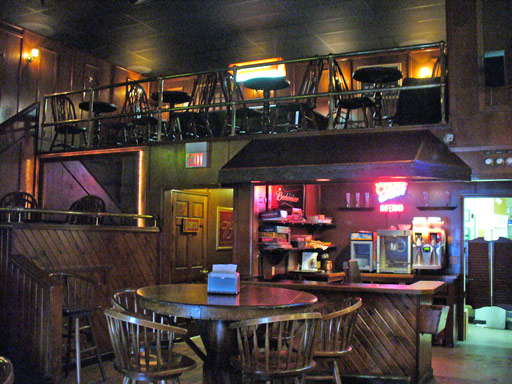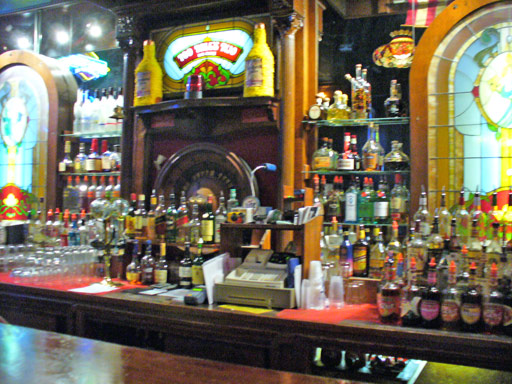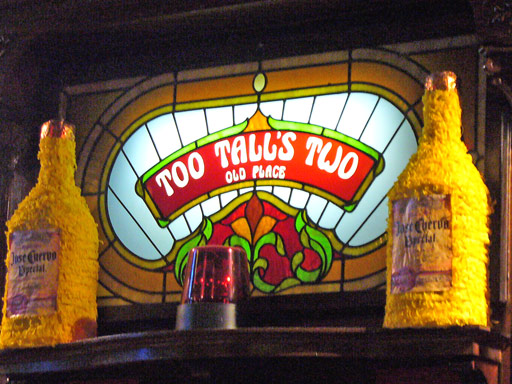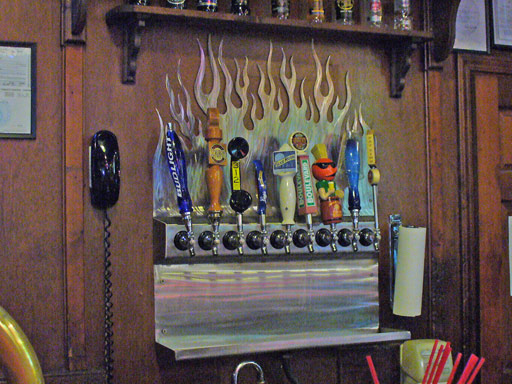 After here we headed to the south end of town for our last Kirksville destination.


4:55pm
#12 NEMO Rocks [map]
B: Bud Lite 10oz draw - $1.25
S: Bud Lite 10oz draw - $1.25
We want to call this a biker bar... except there wwere no bikes but all pickup trucks. In any case it had a stripper pole and a cool bartender.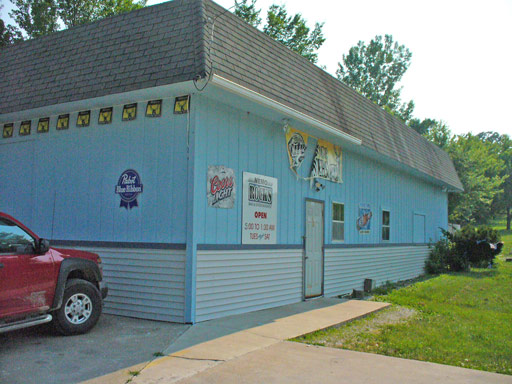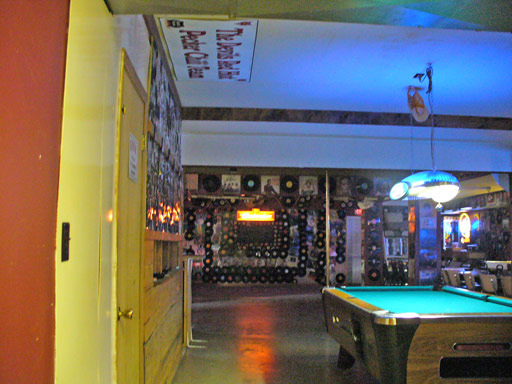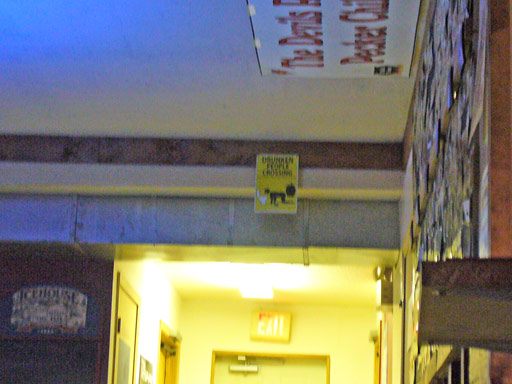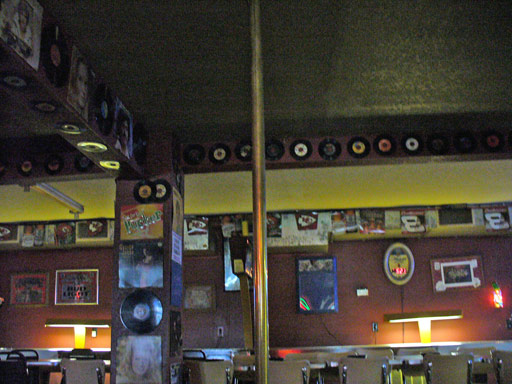 ---
Novinger, MO

On the way into town we spotted a guy driving a go-cart and tried to get his picture... but he was too fast and all we got was his dust.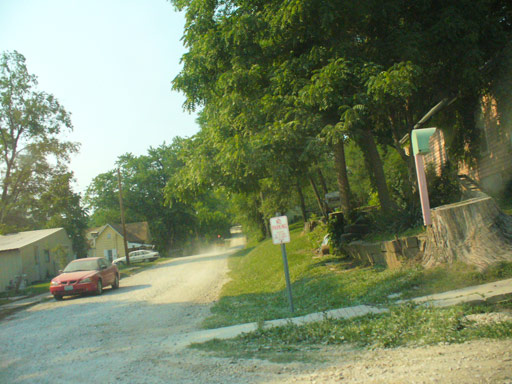 5:30pm
#13 Chevy's [map]
B: Natural Light can - $1.50
S: Natural Light can - $1.50
When we arrived in town we found three bars lined up in a row, but only the southern one was in business. Our bartender told us that she couldn't remember the name of the one in the middle but that the other one was named "Hotel California". She said that only one of the three bars ever seems to be in business at any given time, and that she has worked at each of them.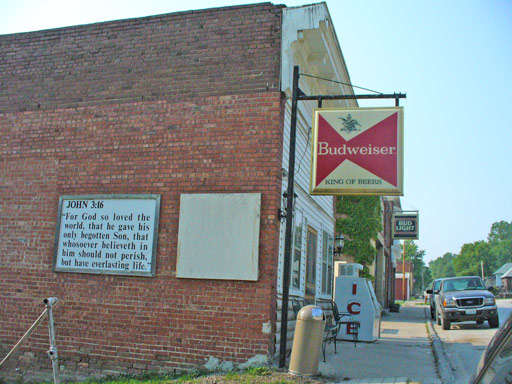 By the way, how often do you see a Bible verse on the side of a bar?



---
Green Castle, MO
6:07pm
#14 Legends [map]
B: Natural Light can - $1.50
S: Natural Light can - $1.50
We couldn't go into the bar due it being rented out for a bachelor party. Luckily it had a nice outdoor beer garden. Our bartender was the former owner, a really nice guy.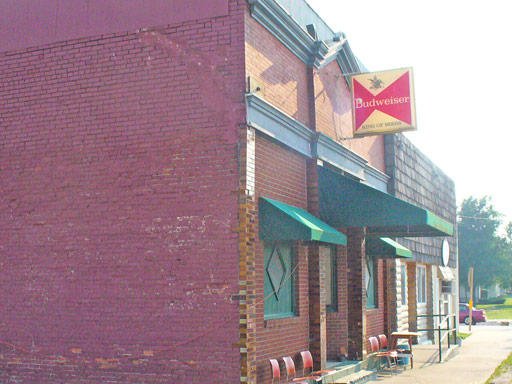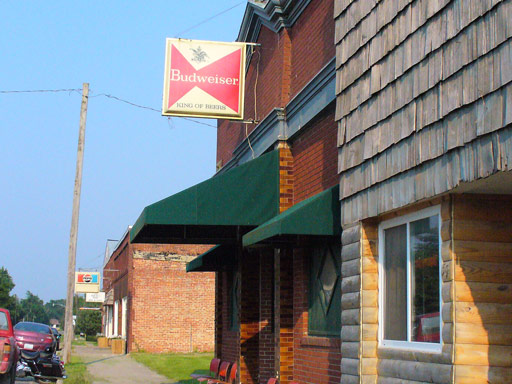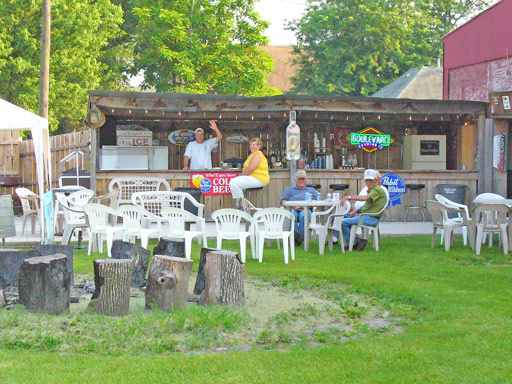 Meanwhile, across the street, a man struggled with a stalled tractor...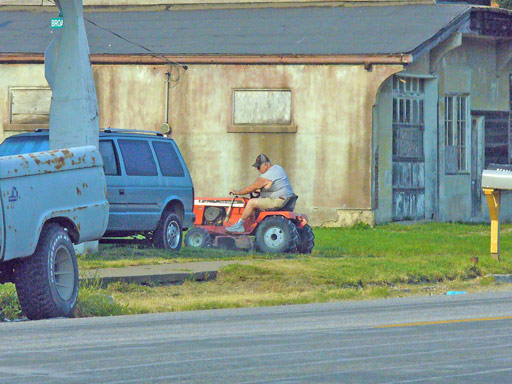 We each did have to slip into the main bar to use the restroom and in doing so found that the the stripper, who was supposed to have been there by now according to the bartender, was late and only a few guys were anywhere to be seen.

We saw far too many cars parked nearby to be explained by the number of people in the bachelor party so looked around and found that the local Lion's Club meets in the "Opra" House [sic] across the street. We decided to check it out. B opened the door, and about 200 silver-haired bingo players stopped what they were doing and stared at us. B wanted to join them, but I wanted to hit the road.

As we headed back to the car B had me take a picture of something gross in the road.


---
Milan, MO

Pulling into the town square with its disproportionately high number of Mexican restaurants, we spotted an RV that looked like something out of a horror movie.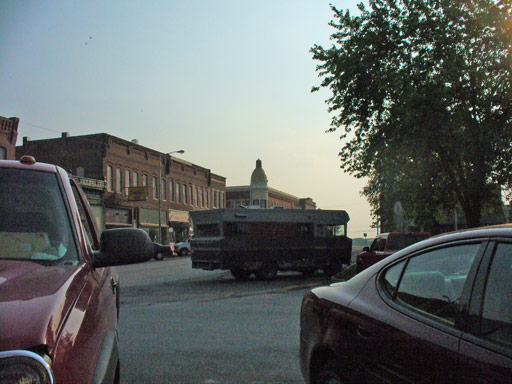 7:00pm (about)
#15 Afternoon Saloon (formerly Cat's Den) [map]
B: Bud Lite 8oz draw - $1
S: Fat Tire 8oz draw - $1
This place was almost cavernous and looked like it had been recently renovated. I selected a seat at some patio furniture.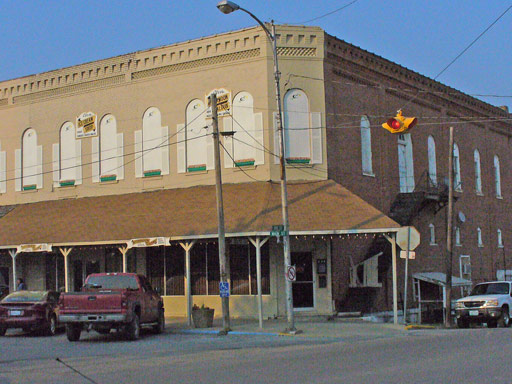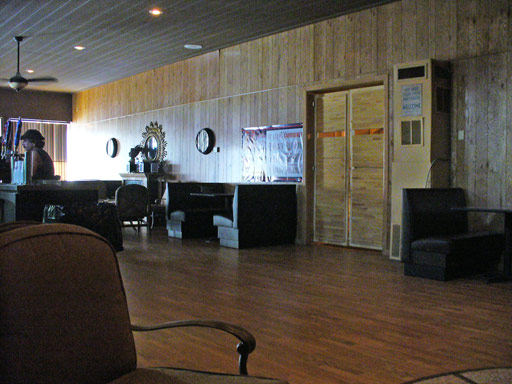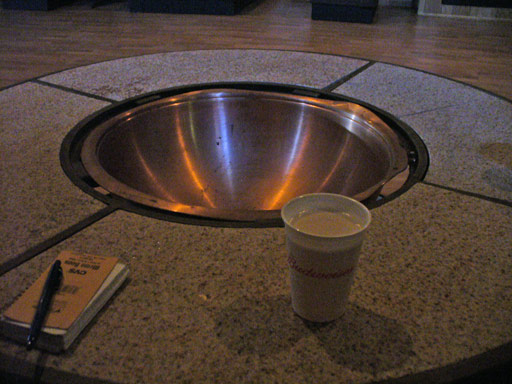 ---
Browning, MO
7:30pm
#16 Rob's Beer Joint [map]
B: PBR can - $2
S: PBR can - $2
Rob still owns the place but has been having health problems the last several months, so his wife is running things for him.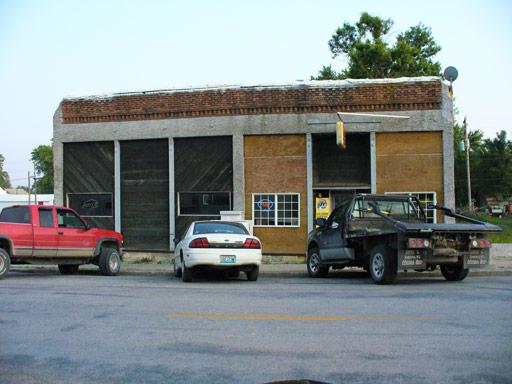 Some scenes on our way to the next town... unfortunately I was not quick enough to get a picture of the white kid with thee HUGE afro that we saw in Purdin, MO.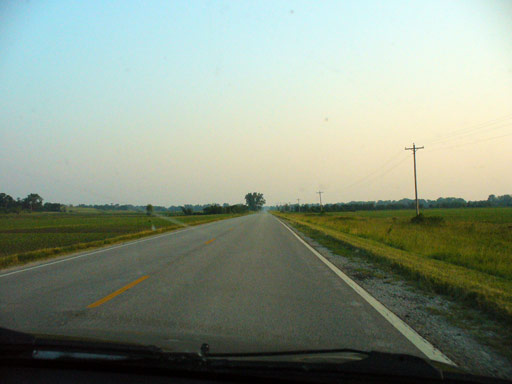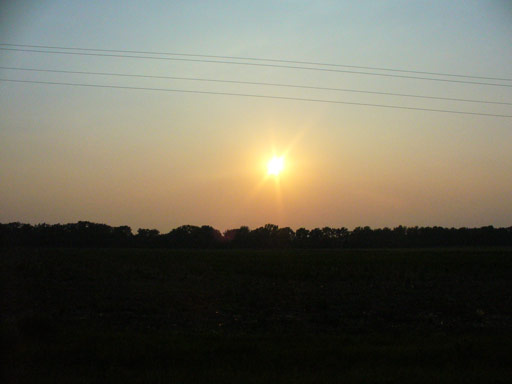 ---
Linneus, MO

This town, with its odd street system, was supposed to product two bars. But the first address led us to a dead end in a sort of trailer park.

8:00pm (about)
#17 Horseshoe Bar [map]
While we were sitting in this spacious bar the bartender's husband and 3 children arrived and sat near us. Cute kids, sipping on their Cokes. B: PBR can - $2
S: PBR can - $2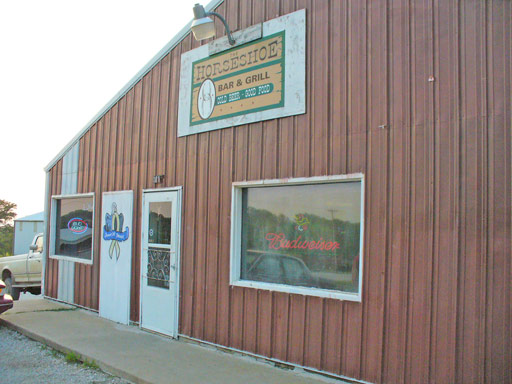 ---
Brookfield, MO
8:30pm (about)
#18 Lucky's [map]
B: Coors Light bottle - $2
S: Coors Light bottle - $2
Your basic strip-mall bar. When we arrived there were 2 cop cars waiting in the lot. Moments later two guys left the bar with drinks in-hand and started to get in their cars. Then they both noticed the cops and in unison turned around and went back inside.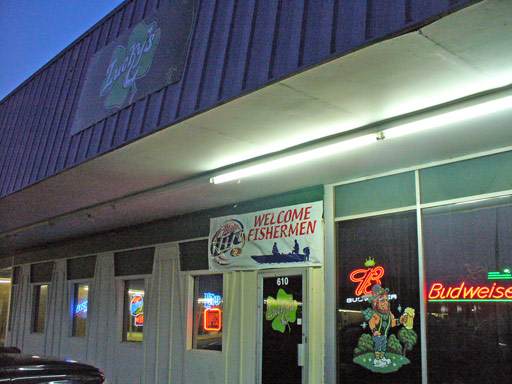 ---
Marceline, MO
9:40pm
#19 Ok Tavern [map]
B: Michelob 10oz draw - $2
S: Michelob Light 10oz draw - $2
I had mis-printed my map of this town so it took us for-e-ver to find this place... even having asked for directions. Finally I spotted the telltale neon and we eventually figured out how to get to it. The interior was pretty rustic.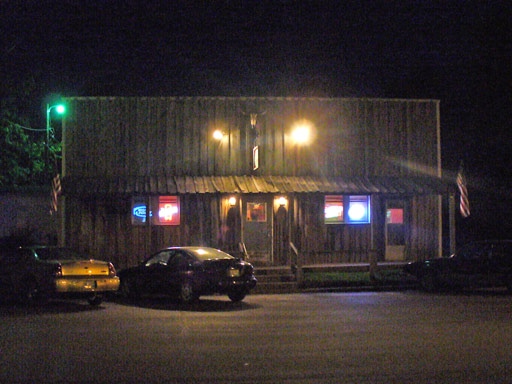 We were getting pretty hungry and went looking around downtown for a pizza joint we were told might still be open, but no lucck finding it.

---
Bucklin, MO
10:10pm
#20 My Place [map]
B: Busch Light can - $1.50
S: Busch Light can - $1.50
This was WELL worth the side trip and is exactly the kind of place we go on these trips hoping to experience.

The place was packed, in part due to a birthday party. Karaoke was in full swing, and a large guy in overalls named Norm was enjoying a few beers.

The karaoke DJ announced that Norm had a special talent to perform but only if the bar raised $50. The funds were quickly collected and Norm stepped just outside the door (to keep from getting the bar in trouble I think) and proceeded to remove his underwear without removing his pants. I got myself photographed with him, those are his tighty-whities hanging out of his pocket.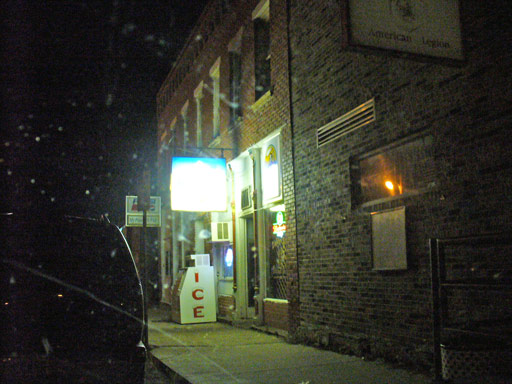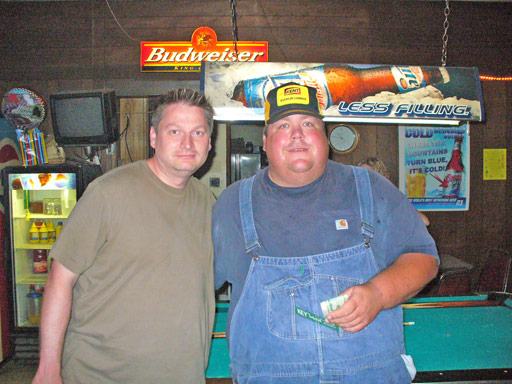 As we were getting intot he car to leave, a woman stepped outside the bar, hocked a loogie into the street, and went back inside. Awesome.



---
New Cambria, MO
10:40pm
#21 Bottom of the Hill (formerly Jimbo's) [map]
B: Busch Light 8oz draw - $0.75
S: Busch Light 8oz draw - $0.75
Karaoke was in play here, but it was dead. We learned why when we tried it ourselves. B did a severely-truncated "You Never Even Call Me By My Name" and I did "Elvira". The karaoke guy had never done it before and apparently was uninsured because he warned both of us to be extremely careful around his "$22,000 of equipment". There was only one song book and it was fastened to the microphone stand. The songs were not organized by title nor artist, instead by what CD they were on, and most of the pages were hand-written. Several times he was unable to find the right songs using his "system". "Elvira" was my third attempt for him to find a song that he had listed, and it took him 3 tries to even find that. Wow. :)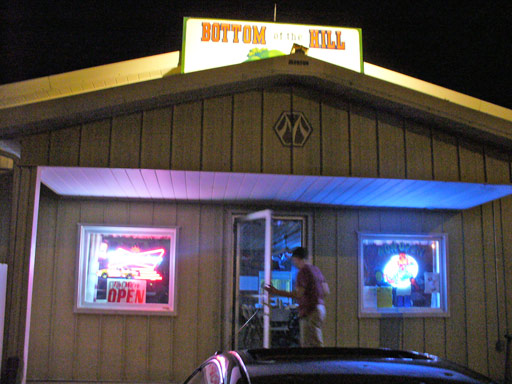 At least we got to meet the dopplegangers of Julianne Moore and Kid Rock, who were having a beer together next to us.

---
Macon, MO

We intended to check into a motel, hit a few bars in town, and call it a night. But first things first... starvation. We found a Taco Bell and stuffed ourselves.

Then tiredness set in.

We never made it to any Macon bars. We checked in at a nearby motel andd were out like a light. This is the first time ever that we have stayed overnight in any town and not visited a bar in that same town.


---
Epiloque

We slept in late Sunday morning (me with a splitting headache) and then had an average pizza buffet at a place called Pizza Works down the road in Moberly. We ended up taking back roads all the rest of the way to Kansas City, with 24 Highway being the final leg of the trip.

This was a pretty terrific road trip. With a final tally of 51 bars we were far shy of the 76 bars we visited last August, but considering we only had half the time for this trip we were actually on pace to top that one by a long shot. :)



<-- Part 1 ... Part 2, Bars 11-21 ... Main -->



Comments? Leave them here.

Check out my new bar blog: Scooter's Bars